A Guide to Exploring Martinique
Martinique is the product of French colonialism and the Trans-Atlantic trade. The culture is a vibrant and eclectic mix of French, Creole, and African rhythm.
What to Bring
Traveling to Martinique is similar to most tropical beach destinations in the Caribbean, but here's a short list of additional items to pack for your journey:
Outlet Plug Adapter - Euro Plug (220V)

French Language Guide (if you aren't fluent)

Waterproof Shoes

Bug Repellant

Sunscreen

Waterproof Phone Case or Pouch

Mini umbrella / rain poncho
Travel Tips
RENT A CAR. This is the main form of transportation on the island and taxi services are very very pricey (you will spend almost four times more on transportation without a car). Unless you plan to spend your whole trip in one area, you will definitely need a car to get around the island. Be sure to have car insurance and drive carefully. Only an experienced driver should drive as the streets and highways are quite difficult to navigate - windy roads and cliffs. If you are driving, be very careful and do not drink and drive.

Learn French. Welllll…. try to learn the basics before your trip or have Google Translate handy as French is the only language spoken on the island (for the most part).

Arrive early. Get to the beach early to avoid the crowds and snag good parking.

Make Reservations. When dining in at a restaurant, be sure to call ahead for a reservation. The more popular places become full for lunch and dinner and they will turn you away (with a smile).

Bring Euros. Euros are the only currency you can use on the island. Most places we found also take major credit cards, but be sure to being a card that will not incur international fees.
Where to Explore
Les Salines Beach. Be sure to get to this beach around 8:30 AM to park and find a decent spot on the beach.
Le Diamant. Before heading to this beach, visit Anse Cafard Memorial. This monument is dedicated to an overturned ship carrying Africans aboard after the abolishment of slavery.
Anse Couleuvre. Drive to the North for a black sand surfer's beach in a jungle-like atmosphere reminiscent of a scene from Jurassic Park. It's worth it. The beach shore looks like diamond dust. It's a surfer's paradise.
Be sure to take N5 to N2 to D10 highways and follow the signs to Saint-Pierre and then Anse Couleuvre. Prepare for a very narrow road next to a railed cliff…drive safely. Some maps will take you the wrong way…and you can end up on the wrong side of the island which will take you 5 hours to get to this beach as opposed to just 2! Also, try to arrive as early as possible to get a good parking spot.
Check out my complete guide for a travel hack we used to navigate our way around the island without wifi.
Go Sailing around Le Robert Islets. Hop on a boat and go snorkeling and swimming around the islands in Le Robert. Find details in my complete travel guide.
Wine and Dine
Otantik - Ti Resto Nature in Sainte-Anne. This is by far my favorite restaurant on the island. It is run by a Black family and is right on the water.
Zanzibar Restaurant in Le Marin. Eating here took me right back to my last international trip to Zanzibar…such a pleasure wining and dining at this stunning eatery.
Case Coco in Sainte-Luce. This restaurant is situated in the cutest village on the water. Park around the corner and take a pic and soak in the vibes of yellow homes and friendly locals.
Restaurant 1643 in Le Caberet. I advise checking this place out on the day you venture to the North as it's on the way to Anse Couleuvre. I have only great things to say, from the decor to the friendly staff, this place was a dream.
Where to Stay
During our journey, we stayed in a quaint little village town called Sainte-Anne. This town is in the South and is a great place to stay during your time as it is easily accessible (by car) to the beaches in the area (see list of beaches above). You can also venture to the North which will take you around 1-2 hours depending on how you can navigate the windy roads. More details of where I stayed and how to book in the complete travel guide below.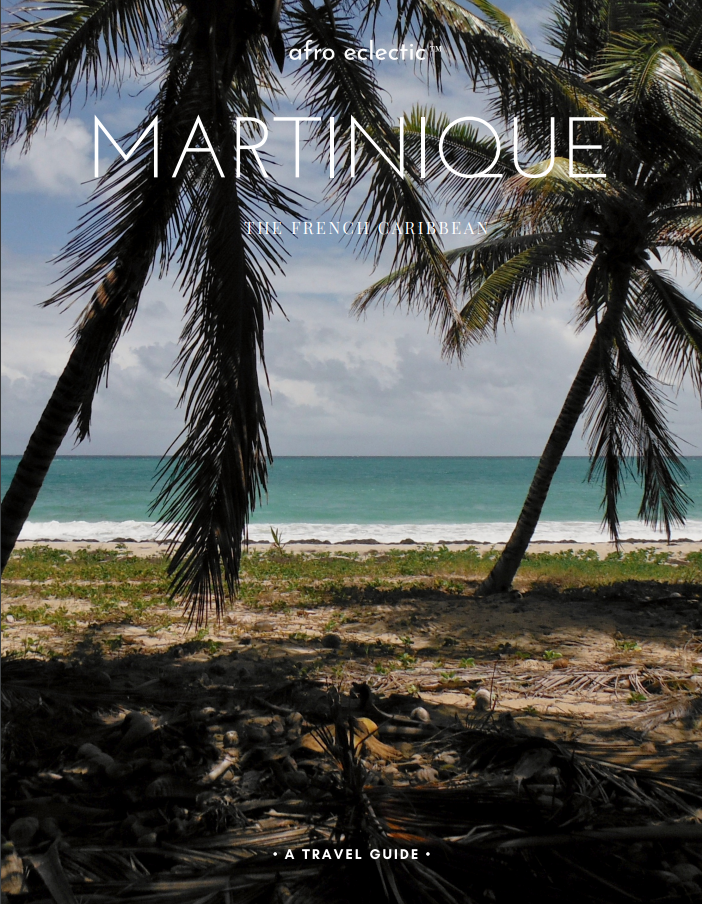 You can purchase the complete travel guide below. Here you will find my entire budget for the trip, exact costs you'll need to consider, where to find free wifi, a complete list of the best restaurants and other travel hacks to navigate the island like a local. I also share Airbnb details, the best touring company for an eco-friendly journey on the island, and more!
Comment below with your experiences in Martinique or questions about this beautiful island.
Bon Voyage!